Supreme Committee of the Judicial Electronic Systems Development: Reviews Ras Al Khaimah Public Prosecution Department Initiatives March 24,2018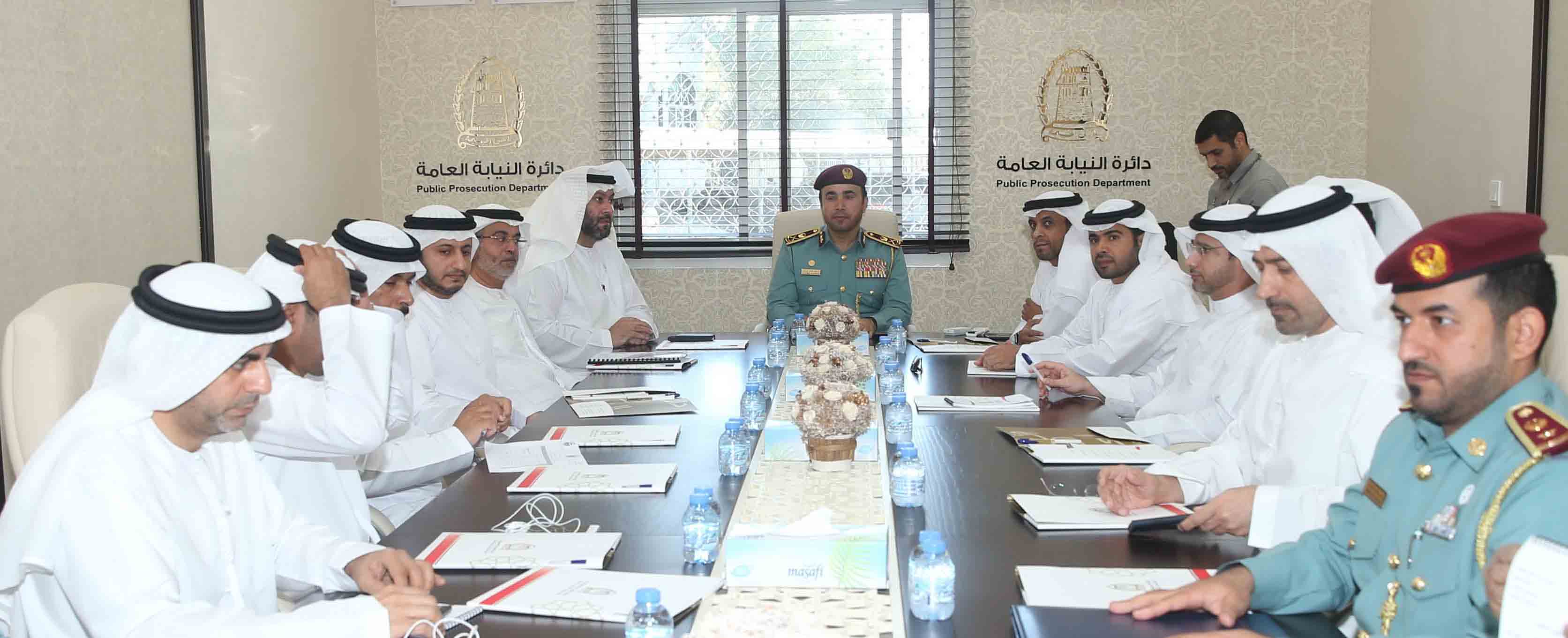 In its periodic meeting at Ras Al Khaimah Public Prosecution Department, the Supreme Committee of the Judicial Electronic Systems Development, headed by Major General Major General Dr. Ahmed Naser Al Raisi, General Inspector of the Ministry of Interior and Chairman of the Committee, reviewed the best practices in providing intelligent judicial electronic services to clients in a way that guarantees seamless work of the judicial system.
The Chairman and members of the committee were received by HE Ahmed Mohammed Al-Khatiri, Head of Ras Al Khaimah Public Prosecution Department, and Chancellor Hassan Saeed Mhimd, Attorney General for the Emirate of Ras Al Khaimah.
The meeting discussed the items scheduled on the agenda of the committee, approved the minutes of its previous meeting, and touched upon the latest developments and actions taken by its members for the application of its resolutions and recommendations.
Also, during their tour at the Public Prosecution Department, the Committee's team reviewed the services provided by the Department and the electronic transformation efforts of the judicial system mechanisms. Such services included: direct video link service with the inmates in punitive and correctional institutions; and witness testimony service without the need for their presence at the court if fully supervised by a judicial authority, which saves time and efforts for all relevant authorities.
The Committee learned about the pilot initiatives offered by Ras Al Khaimah Public Prosecution Department, including the "One-Day Trial" and the "Mobile Court", through which judges in the main court can be contacted. This service is only available at specific locations and follows a specific timetable. The committee expressed its admiration and appreciation for the efforts exerted by the competent authorities in employing intelligent modern technology in criminal proceedings.
Major General Al-Rissi stressed that the E-services offered by the Courts and Public Prosecution in Ras Al Khaimah has saved the time and efforts of citizens and resident, which increased their happiness and comfort. This initiative reflects the vision of the UAE wise leadership in applying intelligent electronic transformation to all governmental services.