RAK Courts Raises Awareness about Mobile Court in the Emirate February 19,2018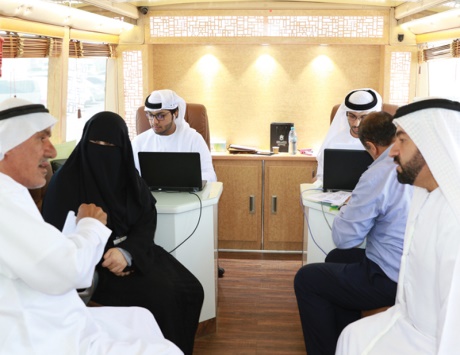 RAK Courts Raises Awareness about Mobile Court in the Emirate
The Ras Al Khaimah Courts Department (RAK Courts) has launched a campaign to raise awareness of the services provided by their Mobile Court in various areas of the Emirate.
The campaign included the introduction of the provided services to community officials and members alike, alongside the distribution of marketing pamphlets to passing vehicles, government bodies, and health centers, amongst other entities. Efforts also included the displaying of the Mobile Court at the Social Innovations Exhibition.
H.E Chancellor Ahmed Mohammed Al Khattri, Chairman of RAK Courts, explained that a number of employees organized, according to a prearranged plan, an awareness campaign about the Mobile Court, the services it provides and where it will be parked within the various regions of the Emirate, beginning in the region of Al Rams.
Al Khattri pointed out that the Mobile Court will be providing services to four areas: Shaam, Al Rams, Al Zahra and Al Julan according to a fixed schedule. The mobile services included 28 services in total, 23 of which are provided by the Community Services Department as represented by the Notification Section and 5 attestation and authentication services by the Notary Public Department.
For his part, HE Dr. Saif Ali Bukhatmeen Al Suwaidi, Director General of RAK Courts, said: "Since its inauguration, the Mobile Court has provided 435 services to individuals, 165 of them were notary services and 270 by the Notification Section. The operational hours of the Mobile Court serve our customers between the hours of 8am and 1 pm."
HE Al Suwaidi pointed out that the Mobile Court is one of the innovative initiatives of the RAK Courts within the UAE innovation month, which aims to continuously develop and improve the services offered by the Department to the customers, and to reduce traveling distance, cost, effort and time.
The initiative was highly praised and admired by the community, which was observed through the distribution of questionnaires that included queries regarding levels of satisfaction regarding the initiative and quality of its services.