Public-Private Cooperation Forum to Sustain Development in Ras Al Khaimah April 28,2018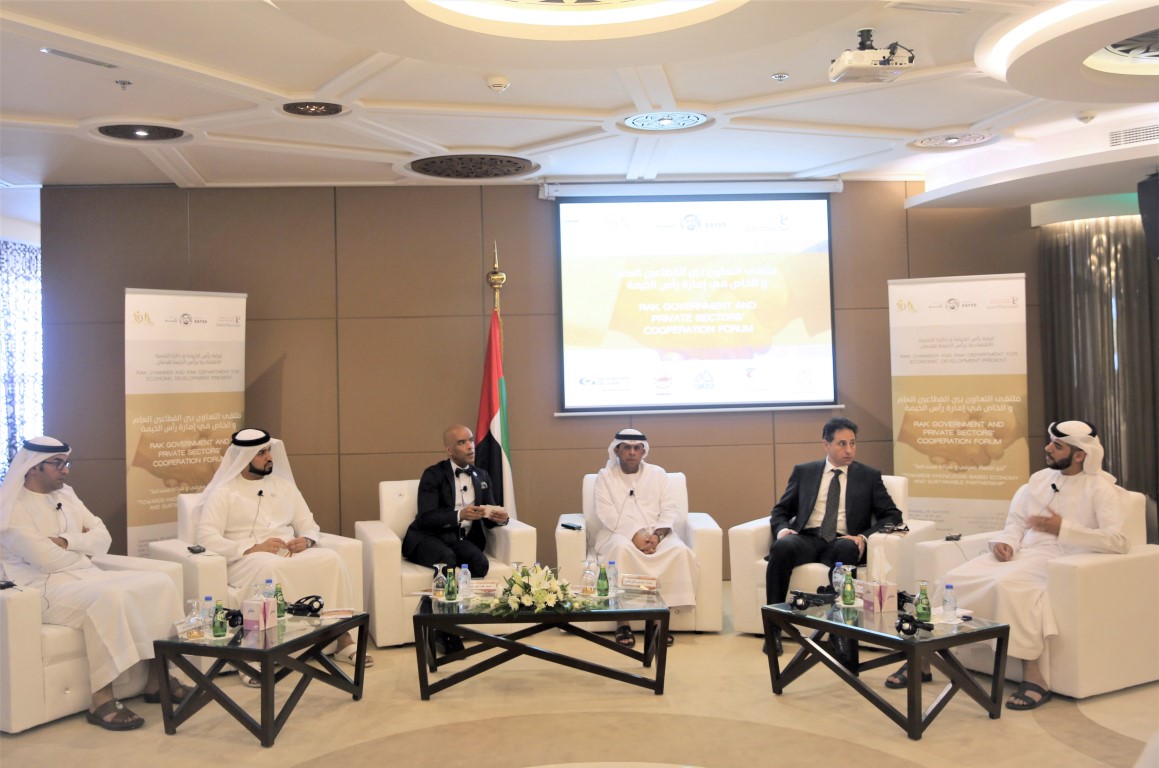 RAK Chamber of Commerce and Industry (RAK Chamber) and the Ras Al Khaimah Department of Economic Development (RAK DED) have joined efforts to organize a public-private cooperation forum to enhance the existing regular communication between them. The Forum additionally serves as a venue to compose a unified strategy to develop the private sector's role and to address the challenges that limit the implementation of such a strategy. Following its conclusion, the Forum will submit its recommendations to decision makers in the Emirate and follow-up on their actions.
The Forum aims to achieve future development and cooperation between the sectors in various fields, including policies, economic legislation, procedures, services, government fees, the support and development of investment projects and further aspects to support the achievement of sustainable economic development.
Mohammed Hassan Al Sibb, Acting Director General of RAK Chamber said: "In light of the growing keenness of the Ras Al Khaimah Government to develop the private sectors' pivotal role in achieving sustainable development, we seek to activate all mechanisms of cooperation between the two sectors on a permanent and continuous basis. Hence, the Forum comes as a result of the importance of public-private cooperation and to clarify its best practices, prospects and aspirations."
Al Sibb then added: "Such cooperation stems from a futuristic and strategic perspective within the economic diversification policy framework, a key factor for the post-oil era. Moreover, the Government is striving to ensure this by providing an environment favorable to its growth by adopting systems that will encourage companies to do their part."
On his behalf, Dr. Abdulrahman Al Naqbi, Director General of RAK DED, said: "Today, public-private cooperation has gained special importance in the Emirate and the UAE in general in response to the economic changes and non-economic developments taking place both locally and internationally. The UAE's fundamental economic reforms that aim to raise economic performance efficiency and competitiveness increasingly rely on the private sector to lead the economic development process and the rapid technical and technological changes."
The RAK DED Director General then added: "Such developments push those in Ras Al Khaimah to carefully pay attention to best practices—which is not only to respond to, but to also interact with the changes and transformations. Positive cooperation between the public and private sectors based on understanding the mutual needs of each party is one of the most influential ways in this field."
Throughout the Forum, representatives of various government entities highlighted their provided services to support the private sector and their plans to develop them, as well as how the private sector interacted with the mentioned services.
It is noteworthy that the Forum brought together representatives of government entities and private companies to discuss the prospects of cooperation in developing government services; and of increasing the role of private companies in achieving governmental requirements in financial disclosure, Emiratization and social responsibility.