AURAK launches Zero-energy House Project March 25,2018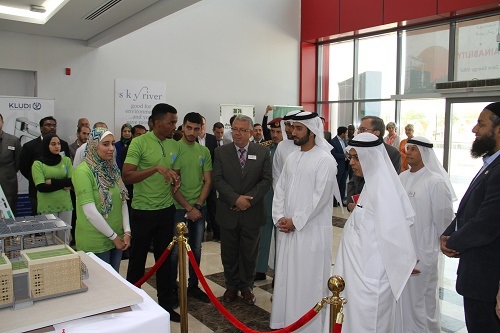 Under the patronage of the Crown Prince of Ras Al Khaimah, His Highness Sheikh Mohammed bin Saud Al Qassimi and the presence of the Director of the Department of Citizens Affairs at the Emiri Diwan in Ras Al Khaimah, Sheikh Sultan bin Jamal bin Saqr Al Qasimi, the American University of Ras Al Khaimah hosted "The Cornerstone Event of Al-Bayt Al-Kamel; RAK Zero Energy Villa," that will be entered into the Solar Decathlon Middle East to be held in November of 2018.
The Solar Decathlon Middle East is a competition created through an agreement between Dubai Electricity and Water Authority and Department of Energy of the United States of America to organize sustainable solar houses in Dubai. The contestants will have the challenge of designing solar houses that must stand up to the heat, dust, and high humidity that is experienced in the Middle East throughout the year. The houses are evaluated in the areas of architecture, engineering and construction, energy management, house functioning, sustainable transportation, sustainability, communication, innovation, energy efficiency, and comfort conditions.
Sheikh Sultan bin Jamal Saqr Al Qasimi was given a detailed explanation about Al-Bayt Al-Kamel Project, after which a film was screened about the Solar Decathlon Middle East, followed by a demonstration of a solar-powered car built at the Engineering college students.
Prof. Hassan Hamdan Al Alkim expressed his satisfaction with the ongoing unconditional government support to AURAK over the past few years. He added that AURAK will give the student and that faculty all the support they need for the decathlon and elated that their efforts will help conserve energy.