The march of higher education has reached a prestigious position September 29,2018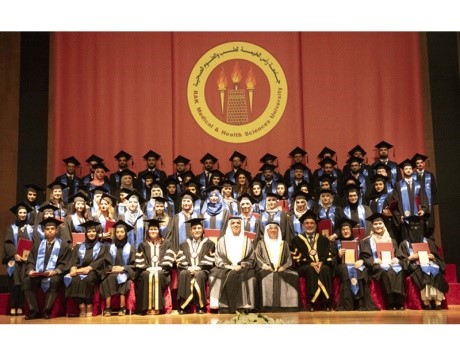 His Highness Sheikh Saud bin Saqr Al Qasimi, the highest member of the Council and ruler of Ras Al Khaimah, confirmed that higher education in the country has achieved a prestigious position in accordance with the highest international standards.
During the ceremony last night, on the occasion of the graduation of the first batch of the eighth batch of 151 graduates of the Faculty of Medicine, Faculty of Dentistry, and holders of bachelor's and postgraduate degrees – The UAE offers accommodation to the most prestigious universities of around the world because of its unique educational environment.
His Highness, the ruler of Ras Al Khaimah, praised the role of the Ras Al Khaimah University of Medicine and Health Sciences to qualify qualified human cadres to fulfill their role in the medical institutions inside and outside the country, the sharpness of the university administration reflects to lead in preparing medical frameworks for the labor market.
His Highness congratulated the graduates and their parents on this occasion, which is the fruit of the effort during the years of university study, to reward this zeal successfully and successfully.
For his part, Dr. The university has always been transparent and transparent in its administration, focusing on the quality of education, which is reflected in the quality of medical education at university students. The university is proud of the achievements of its students and graduates in the field of education and public activities such as participation in conferences and research. And the university successfully contributes to the needs of the medical and health sector in the country.
All bachelor's and master's programs at the university are accredited by the Academic Accreditation Committee of the Ministry of Education. Point out that the university is also included in the World Health Organization lists, which qualifies university graduates to submit US, UK and other equivalent examinations to join studies and disciplines outside the state.
On the occasion of the graduation of the eighth batch, the university board thanked his thanks and gratitude to his Highness Sheikh Saud Bin Saqr Al Qasimi, the Supreme President of the University, for his guidance that paved the way and tackled all the challenges that the university has different stages.
The ceremony was attended by Shaikh Saqr Bin Mohammed Bin Saqr Al Qasimi, supreme president of RAK Sports Cultural Club, the administrative and academic staff of the university, and a number of officials and parents of graduate students.