Smart Technology to Reduce Cases of Students Staying in RAK Buses September 10,2018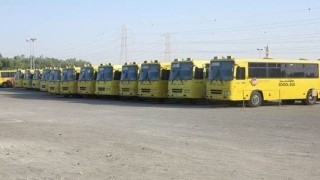 Obaid Al Breiki, head of the ET office in Ras Al Khaimah, said all schools' buses in the emirate have been fitted with smart sensors ahead of the new academic year. "The move is aimed to boost safety in all 455 ET school buses." The company recently added 31 new buses to its school bus fleet, he added.
Al Breiki said the smart sensors starts working when the school bus is stopped or closed. "They detect any item, body, or student left behind and sound a high alarm. The smart sensors is an added value to the 22,000 students in RAK government schools. Each bus driver has also been given a special card displaying these words: 'No student onboard' to display on the rear windshield after pulling over and closing the bus."
If the driver parks the bus and locks it without inserting the card, he will be fined.
He added that the ET office in Ras Al Khaimah has taken a number of safety and prevention measures to ensure the arrival of every student to and from school, including shortening routs through taking the new RAK Ring Road to transport students of the Emirates National School and other schools in the northern regions without entering the city.