Sheikh Saud bin Saqr Al Qasimi UAE Leadership has Placed Education at the Forefront of Comprehensive Development July 13,2018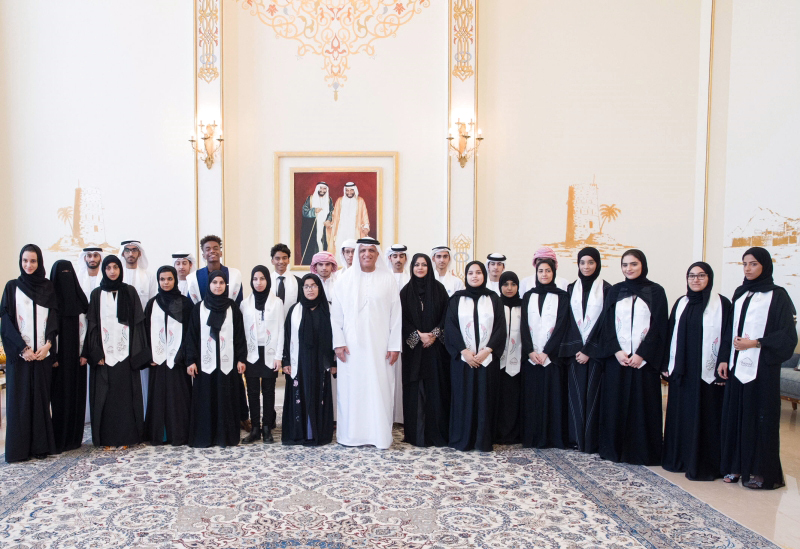 H.H. Sheikh Saud bin Saqr Al Qasimi, Supreme Council Member and Ruler of Ras al-Khaimah, asserted that Education is the first building block in realizing the full development of nations and building of countries, as well as the main engine for sustainable development. Education is the first step towards building knowledge-based society, which encourages innovation and creativity and contributes to enhancing the UAE competitiveness on the global level, led by citizens armed with science and knowledge.
H.H. Sheikh Saud bin Saqr Al Qasimi made this statement while receiving, at Al Dhait Palace in Saqr Bin Mohammed City, High School Top Graduates for the Academic Year 2017-2018 from all around Ras al-Khaimah, four of whom had landed places among the Top 10 Performers of the UAE. This meeting was also attended by students' parents and a number of leading figures in the field of education in RAK Educational Zone.
During the meeting, H.H. Ruler of Ras al-Khaimah praised the wise vision of Their Highnesses Sheikh Khalifa bin Zayed Al Nahyan, President of the UAE, Sheikh Mohammed bin Rashid Al Maktoum, Vice President and Prime Minister of the UAE and Ruler of Dubai and Sheikh Mohammed bin Zayed Al Nahyan, Crown Prince of Abu Dhabi and Deputy Supreme Commander of the UAE Armed Forces. Recognizing the importance of Education and its vital role in enhancing the UAE's position on regional and global levels in all fields. Their Highnesses' vision placed Education among top priorities and at the forefront of the comprehensive development plans.
"We are proud to meet our distinguished students today, and we are looking forward to see them achieve greater success in the next phase of their university life", said H.H. Sheikh Saud bin Saqr Al Qasimi. "This phase requires increasing efforts and perseverance to achieve the hopes and aspirations of their parents and of their wise leadership in building a scientifically and professionally qualified generation to continue the successful development of the UAE that is admired by the entire world for its global and cultural achievements".
"Investing in the human capital of nations is undoubtedly the best approach to face the current and future challenges while keeping pace with the progress of knowledge around us and the rapid technological advancement in various fields from the world", added H.H. "In light of that, our national experience has been successful in developing and advancing the educational sector since the Union.
Today we are reaping the fruits of the efforts of our forefathers who were keen to build highly qualified UAE nationals who attended the world's top universities to contribute to shaping the bright future of the nation".
H.H. Ruler of Ras al-Khaimah congratulated the students on their achievement that would not have been possible without their effort, perseverance and hard work, which has resulted in this excellence. He also addressed parents congratulating them for their children's top performance, praising their keen follow-up and encouragment of their children to achieve excellence.
His Highness exchanged friendly conversations with each student, during which they told him about their future aspirations about academic life in the UAE and abroad.
Special Attention and Care
On her part, Sumaya Hareb Al Suwaidi, Director of RAK Educational Zone, said that Education in the UAE and RAK Emirate particularly ranks high on H.H. Sheikh Saud bin Saqr Al Qassimi list of priorities. H.H. constantly follows-up the educational process in the Emirate, and works towards overcoming the challenges and difficulties we face while achieving the desired goals of producing generations of outstanding and qualified students to serve the nation in all areas.