Second Phase of Water Networks in RAK Inaugurated January 09,2019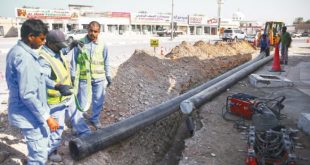 The Federal Electricity & Water Authority (FEWA) inaugurated the second phase of replacing the old water networks in Ras Al Khaimah through several projects covering several Al Maarid, Al Mamourah, Al Nakheel, Al Dhait, Al Rams, among others to install modern networks meet future demands and residential expansions, along with development plans in these areas.
Mohammed Mohammed Saleh, Director General of FEWA said: "These projects are part of the Authority's strategy for the water sector, related to production, storage, transport and distribution. These projects will serve future expansions and activities in these areas."
He mentioned that replacing old water networks Ras Al Khaimah with new polyethylene networks was divided into several phases. The Authority completed the first phase, which included replacing networks in Khuzam and Shaml Al Qusaidat in Al Nakheel area, by the Ministry of Infrastructure Development. The project also included installation of modern distribution network to serve the high population density in the area for years to come. This follows a previous project in Al Burairat, reaching Al Qusaidat and Al Oraibi areas, which involved installing a network of 400 mm pipes over 7 km.

He pointed out that the Authority has also completed several networks of various diameters between Al Rams, Sahawat, and Shaml. The project included constructing a pumping station in Ghalilah, raising pumping efficiency and storage capacity in northern areas of the emirate, as well as allowing water to reach mountainous areas, and strengthening pumping networks. The Authority replaced 5 km of the network in Union Street network in Al Jazira Al Hamra, starting from Sheikh Mohammed bin Zayed roundabout towards Al Jazira Al Hamra.

Last year the authority replaced the 400 mm line in Al Dhait pumping station from Al Nakheel desalination plant with a 600 mm, as well as replacing a 1 km network in Wadi Haqeel with 315 mm pipes. It also completed replacement of 4 km networks in Al Jazira Al Hamra with 400 mm pipes, and the networks in Al Rams and Shaml areas.
He added: "The second phase includes replacing 86.7 km networks along Al Nakheel Street in Al Nakheel, Al Oraibi, and Al Qusaidat areas with 250 mm, 200 mm, and 160 mm pipes, in addition to 3 km network in the extension of Salem bin Sultan Street, with 250 mm pipes. This project serves Al Maarid, and side streets. The Authority is currently replacing a 4.9 km network in Al Kharan with 160 mm pipes."
Saleh confirmed that the next phase will include replacing several networks, based on the studies of the networks in Shaebiat Al Mahabib - Al Rams, in addition to replacing 4.53 km network in Sieh Kebda with 160 mm pipes next year. The Authority also completed a study for replacing 3.07 km network in Al Dhait Al Janoubi - Ittihad Street extension with 315 mm pipes.