Saud bin Saqr Unveiled Special Olympics memorial in Al Murjan Island March 12,2019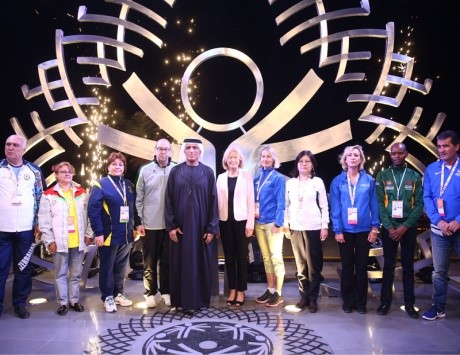 H.H. Sheikh Saud bin Saqr Al Qasimi, Supreme Council Member and Ruler of Ras Al Khaimah, praised the UAE's hosting of the Special Olympics World Games, Abu Dhabi 2019, which is the largest humanitarian sporting event in the world, under the patronage of President His Highness Sheikh Khalifa bin Zayed Al Nahyan, and the Vice President, Prime Minister and Ruler of Dubai, His Highness Sheikh Mohammed bin Rashid Al Maktoum, and His Highness Sheikh Mohamed bin Zayed Al Nahyan, Crown Prince of Abu Dhabi and Deputy Supreme Commander of the UAE Armed Forces, and Their Highnesses Supreme Council Members and Rulers of the Emirates; and their Highness Supreme Council Members Rulers of the Emirates. His Highness made this statement while inaugurating the Special Olympics memorial in Al Murjan Island.
Sheikh Saud added that the UAE is a country of tolerance, compassion and peace, which is reflected in the hosting of the historic event, with the aim of reinforcing the humanitarian values that were established in the UAE by Founding Father, the late Sheikh Zayed bin Sultan Al Nahyan.
Sheikh Saud welcomed the delegations participating in the "Special Olympics Hosting Town Program," in Ras Al Khaimah. He said: "Civilized societies do not discriminate against people, and the UAE was a pioneer in integrating the People of Determination in society and utilizing their abilities to serve the UAE. They are partners in the success and achievements in every aspect."
His Highness added: "Hosting the participating delegations across the UAE is an opportunity for communication, and contribution by citizens and residents in organizing this historic humanitarian events."
The event is a part of the program which is organized under the patronage of H.H. Sheikh Mohammed bin Saud bin Saqr Al Qasimi, Crown Prince of Ras Al Khaimah and Chairman of the Ras Al Khaimah Executive Council, under the slogan, "These are the People of Determination."
The event was also attended by Sheikh Ahmed bin Saud Al Qasimi, Chairman of the Ras Al Khaimah Petroleum Authority, Sheikh Saqr bin Saud Al Qassimi, and Mary Davis, Special Olympics CEO, as well as officials from local departments and institutions, and the participating delegations from South Africa, Estonia, Mongolia, Greece, Azerbaijan, Cyprus, Luxembourg and Kazakhstan.