Saud Bin Saqr Launches 5th International Conference on Global Warming March 30,2019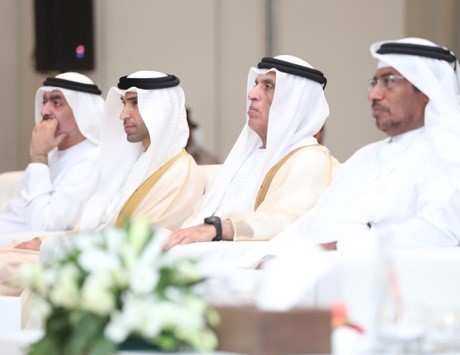 His Highness Sheikh Saud Bin Saqr Al Qasimi, Supreme Council Member and Ruler of Ras Al Khaimah, attended today (Tuesday) the opening of the 5th International Conference on Global Warming, held under the slogan "Environmental Compliance" and organized by the Environment Protection and Development Authority in Ras Al Khaimah. The conference was attended by His Excellency Dr. Thani Ahmed Al Zeyoudi. Minister of Climate Change and Environment, and a number of regional and international experts.
Dr. Thani bin Ahmed Al Zeyoudi, Minister of Climate Change and Environment, stated that the ministry aims to strengthen its cooperation and consolidate its strategic partnerships with local authorities, to adopt several projects that aim to reduce the effects global warming, including a project to utilise wasted energy produced by cement factories, which has been adopted by 50 percent of companies in Ras Al Khaimah, which reduces thermal and air pollution significantly, as most of the energy is recycled within the system, thus reducing energy consumption, with production at one company reaching 8000 MW during a month by using this new technology.
He addressed the use of alternative fuel at cement factories, where Ministerial Decision no. 137 of 2012 on the guidelines for regulating cement factories contributed to motivating factories to use various kinds of alternative fuel. This in turn, allowed reducing several types of waste, including used tires, wood, and oil residue, and this was applied in 83% of cement companies in the Emirate, with rates of up to 18% of the amount of overall fuel used.
Dr. Al Zeyoudi said: "We aim to increase the rates of alternative fuels used by factories in the future, by issuing new decision no. 98 of 2019 on using alternative fuel produced by the RDF waste processing operations at cement factories, which will contribute to preserving non-renewable natural resources.
The Minster said that environmental laws and regulations also contributed in controlling the environmental impact of industries, by connecting factory chimneys to central monitoring units, allowing local authorities to monitor emissions and take necessary actions if the permitted limits are surpassed.
He said: Joint auditing between Ministry specialists and local authorities for high-priority facilities at different times played a major role in controlling and monitoring industrial zones and ensuring their compliance with laws and regulations.
The conference is held on March 26-28 under the patronage of His Highness Ruler of Ras Al Khaimah.
The conference sessions discuss role of environmental compliance in achieving sustainable development and limiting effects of global warming, exchanging regional and international expertise, sharing best practices in controls of industrial and development activities in the Arab region and the UAE in particular. According to the organizing committee, the conference has drawn the attention of several global organizations specializing in global warming.
Dr. Al Zeyoudi said: "Climate change and global warming represent the main challenge facing the international community, with their increasing repercussions in all countries around the world, including high temperatures, tidal waves, hurricanes, floods, and droughts," stressing that facing these challenges requires international efforts, as well as committing to environmental standards.
Dr. Al Zeyoudi added: "Environmental compliance and commitment are extremely important in fighting global warming and climate change, which is why the UAE, represented by the Ministry of Climate Change and Environment, introduced regulations to set the requirements of preserving the environment and ensuring the sustainability of natural resources."
Dr. Saif Al Ghais, Director General of the Environment Protection and Development Authority in RAK, said that the 5th International Conference on Global Warming complements previous conferences organized under the patronage of His Highness the Ruler of Ras Al Khaimah, which attracted wide regional and international participation.
Al Ghais said the conference will introduce 30 scientific papers from more than 10 countries worldwide.
He said the papers discuss environmental regulations, their impact and implementation, as well as the role and effects of climate change on marine eco-system, case studies of compliance to governmental policies and regulations for combating global warming, and how modern technological advances contribute to reducing the impact of the rising Earth temperature.
The conference will also discuss climate change policies, and limiting the impact of global warming on endangered species in ecosystems.