RAKTDA Transports Visitors to Jebel Jais July 05,2018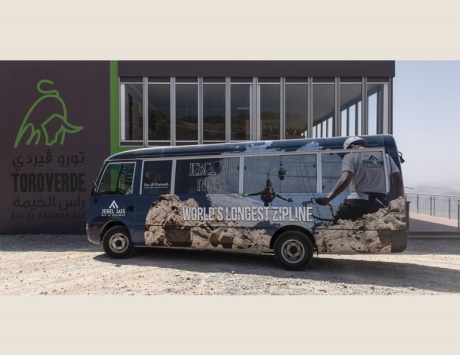 Yesterday, the Ras Al Khaimah Tourism Development Authority (RAKTDA) announced that its new luxury transportation service will now provide easy access to the highest peak in the UAE for visitors and residents alike. The RAKTDA services to Jebel Jais Flight, the world's longest zipline, and the Jebel Jais Viewing Deck Park will embark from the City Center, Al Jazirat Al Hamra and Al Marjan Island.
The new service will additionally serve in assisting destination management companies and tour guides from key international markets by attracting more tourists who wish to spend their holidays at a distinguished and unique destination. The mountain is a prime location for visitors year-round and is the perfect location to visit during the summer, with peak temperatures averaging 10 degrees cooler than elsewhere throughout the UAE. The new services provide an outstanding and simplified opportunity for all to access the 2.83 km-long Jebel Jais Flight or to simply spend an enjoyable and adventurous time at the Viewing Deck Park.