RAKEZ CEO: 23% Increase in Industrial Companies Over the Last Year January 05,2020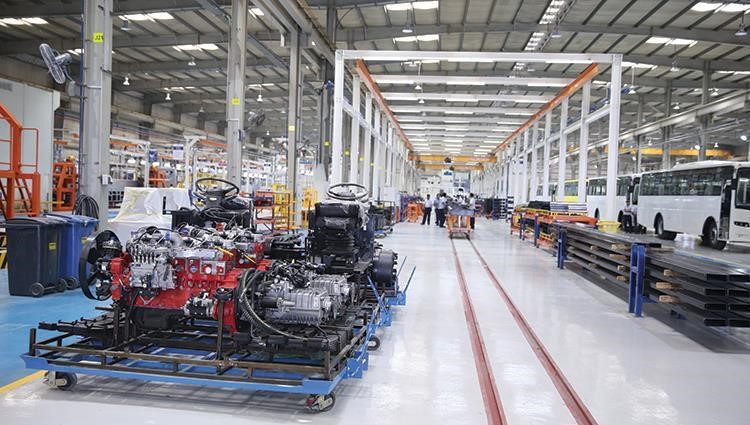 Ras Al Khaimah Economic Zone's (RAKEZ) witnessed a 23% increase in industrial companies in 2019 compared to 2018, reflecting its success in attracting international companies to leverage on the emirate's position as a gateway to enter the regional markets. RAKEZ hosts an overall of 14500 companies, from big industrial companies, such as cars, iron and cable plants, to commercial and services firms.
Ramy Jallad, Group CEO, said that RAKEZ plays a vital role in driving growth and economic diversification in Ras Al Khaimah, thanks to its national, regional and international investments, which has significantly contributed to the development of major commercial and infrastructure projects within the Emirate, strengthening its progress and further cementing its position on international business scene.
Jallad explained to Al Ittihad that RAKEZ is witnessing diversified investments, led by the trade sector, at 45.5%, followed by services sector at 33.31%, general trading sector at 8.28% and industrial sector at 5.31%, among others. Other businesses vary between media, E-commerce and educational firms from more than 100 countries, and serving over 50 sectors.
He added: "This year, RAKEZ has over 770 industrial companies, compared to 600 companies last year, a 23% increase compared to 2018. The companies represent various sectors, such as automotive, spare parts, plastics, industrial equipment, packaging, F&B, and paper products sectors. The provision of state-of-the-art infrastructure allowed companies to leverage these strong facilities, ultimately improving their business in the zone".
Jallad also pointed out that RAKEZ consists of three industrial zones across important strategic locations in the Ras Al Khaimah; including Al Ghail Industrial Zone, covering over 28.2 million sqm, and easy access to road network to facilitate transport and shipping; Al Hamra Industrial Zone, spreading over 9.3 million sqm, suitable for light and heavy industries project, located in proximity of Dubai, Sharjah and neighboring emirates; and Al Hulaila Industrial Zone, covering 2.8 million sqm, and providing heavy industrial companies the opportunity to grow and expand, with warehouses that can be customized as per the investors' needs.
Jallad emphasized that RAKEZ offers the right environment for firms and businesses by adopting a seamless system for license services. Furthermore, RAKEZ provides various types of utilities and facilities to meet the needs of investors and entrepreneurs, including office units, offices, warehouses and land parcels open for development.
In addition, RAKEZ offers one-stop integrated services, with a dedicated E-portal which enables customers to submit and track their requests and transactions, allowing them to easily complete the renewal of business licenses and rental contracts online. Furthermore, RAKEZ offers a wide range business licenses, covering educational, industrial, services, commercial, general trading, E-commerce, media and professional licenses, and more. RAKEZ also released a special package dedicated to businesswomen and signed a number of strategic deals and partnerships with 4 leading UAE banks, which will act as banking partners to provide benefits that are specially designed for RAKEZ's customers.
Jallad further noted that RAKEZ hosts a number of leading industrial companies, including armored vehicles manufacturer STREIT Group, manufacturer of commercial vehicles and trucks Ashok Leyland, glass manufacturer Saverglass, and Motherson Sumi, one of the biggest manufacturers of automotive wiring harnesses worldwide, among others.
Ashok Leyland plant produces more than 2800 trucks annually, targeting the local market, in addition to GCC and West African markets. The plant holds 72% of the local big buses market (11 meters), 23% of medium buses market (9 meters) and 9% for small buses market.