RAK the Fastest growing Tourist Destination in the World April 17,2019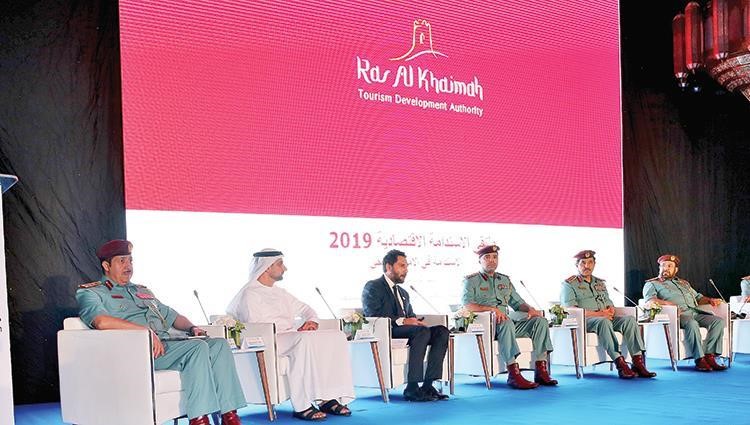 Major General Ali Abdullah Bin Alwan Al Nuaimi, Commander-in-Chief of the Ras Al Khaimah Police praised the continuous support offered by H.H. Sheikh Saud bin Saqr Al Qasimi, Supreme Council Member and Ruler of Ras Al Khaimah and the instructions and follow-up efforts made by H.H. Sheikh Mohammed bin Saud bin Saqr Al Qasimi, Crown Prince of Ras Al Khaimah and Chairman of the Ras Al Khaimah Judicial Council, in order to maintain safety and security across the Emirate and UAE. Speaking at the third edition of the Economic Sustainability Forum organized by the Department of Media and Public Relations of Ras Al Khaimah Police, under the theme 'Sustainability in Tourism Security', Major General Al Nuaimi said: "The Ministry of Interior has established sustainability as an institutional value, therefore, Ras Al Khaimah Police is organizing this event to contribute to a sustainable development now and for our future generations, in addition to empowering the UAE's position as a competitive international player."
He added: "Believing in sustainability as a major driver for development, we have adopted all necessary strategies and procedures across our main police operations and services, including tourism security, thus the creation of a tourist police unit in order to keep abreast of the tourism boom in the Emirate and protect and serve tourists around the clock."
In a discussion session moderated by Colonel Dr. Nasser Mohammed Al Bakr, Director of the RAK Police Training Institute, Haitham Mattar, CEO of Ras Al Khaimah Tourism Development Authority, explained the role of Ras Al Khaimah police in supporting the tourism industry in the Emirate, while providing safety and security across tourist destinations according to the highest standards.
He pointed out that, by the end of last year, the number of tourists in Ras Al Khaimah has exceeded one million tourists from different countries, with a growth rate of 9.9%, making the Emirate the fastest growing tourist destinations in the world. "The Authority is currently focusing its efforts on investing in adventure tourism, which is of great interest to tourists, in addition to achieving the objectives of attracting three million tourists to Ras Al Khaimah in 2025, which requires the provision of 20 thousand hotel rooms being built at the present time," he said.
He also highlighted new attractions across the Emirate, including the construction of new skating rinks for children aged 5 years and above, the establishment of the luxurious camp which includes several hotel villas in Jebel Jais, the launch of an Academy for survival skills and other projects.