RAK Ruler Visits RAK Food Carnival and Reviewed the activities January 03,2020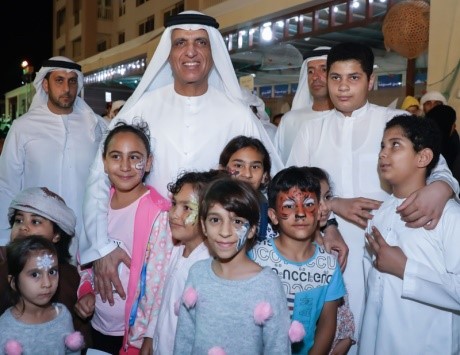 His Highness Sheikh Saud Bin Saqr Al Qasimi, Supreme Council Member and Ruler of Ras Al Khaimah, visited RAK Food Carnival at Mina Al Arab in Ras Al Khaimah. The Carnival brought together some of the oldest restaurants in the emirate.
During the visit, His Highness toured the carnival activities, and praised the advancements achieved by RAK's hospitality industry, with some of the participating restaurants dating back to 1950s.
His Highness was briefed on work processes and the success stories realized by these establishments. His Highness thanked the participating restaurants, while stressing their integral role in the emirate's heritage and culture.
His Highness Sheikh Saud Bin Saqr Al Qasimi said: "we support all Emirati and resident business owners and those who wish to establish their small or medium enterprises, as they are an integral part of RAK economy, as they provide diversity- the backbone of tourism development in the region."
His Highness also attended a lunch banquet held by Khalifa Saeed Abdullah Al Musaferi to celebrate the wedding of his son Saeed to the daughter of Hassan Humaid Jaber bin Sumait Al Alili His Highness the Ruler of Ras Al Khaimah congratulated the families and wished them a happy and prosper life. The celebration was attended by several sheikhs and citizens.