RAK Police Sergeant Innovates a Remote-contorlled Vehicle with a 700m Range October 12,2018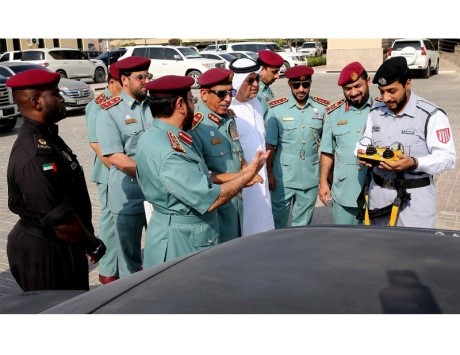 Ras Al Khaimah Police announced that Sergeant Ali Hassan Al Obad, of the Traffic and Partols Division at the Traffic and Patrols Department, presented 3 innovations, which will promote police work.
Major General Ali Abdullah bin Alwan Al Nuaimi, Commander-in-Chief of the Ras Al Khaimah Police reviewed the innovations in the presence of Brigadier General, Dr. Mohammed Saeed Al Humaidi, Director General of Central Operations at RAK Police. Sergeant Al Obad stressed that he presented these innovations to develop police vehicles. The innovations included a remote-controlled vehicle with a range of 500-700m, with multiple uses, such as security negotiations, riot control, and simulating traffic accidents. The remote-controlled vehicles can be equipped with cameras, to promote safety and security.
Sergeant Al Obad also presented his second innovation, which is a base for the remote control, which can be used to hold the remote control in police vehicles, which protects it from slipping and breaking, and keeps the hands of the driver free to promote safety and preserve public resources.
The Commander-in-Chief also viewed the third innovation, which can shut down the engine of the police vehicle by pushing the breaks. The police vehicle can then only be started by a key installed inside the vehicle. This innovation helps secure police vehicles at checkpoints, traffic accident location, or while regulating traffic.