RAK Chamber discusses ways to improve cooperation with Indonesia September 28,2018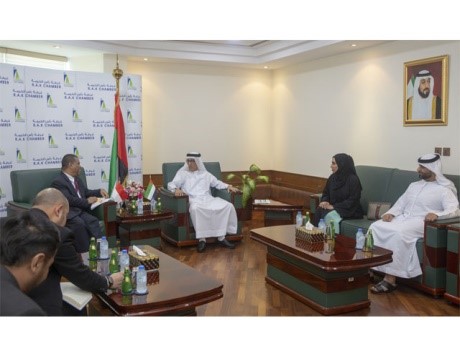 RAK Chamber of Commerce and Industry discussed ways to cooperate with an official delegation from the Consulate of the Republic of Indonesia to the state to promote investment and enter into partnerships between the two parties to improve the business climate in areas of common interest.
Mohammed Ali Al Sharhan, board member of the Ras Al Khaimah room, and Radwan Hassan, consul general of the Republic of Indonesia, discussed ways to strengthen cooperation and partnership between the two parties. The meeting was attended by Arafa Al Falahi, Ras Al Khaimah, and Mohammed Hassan Alshib, Director General of the Chamber, in addition to a number of officials from the Indonesian Consulate.
The Consul General of Indonesia praised the level of relations between the two countries, which encourages mutual interest, and emphasized the will of Indonesia to strengthen and further develop economic and trade cooperation with Ras Al Khaimah through investment opportunities and facilities both sides available. To increase efforts and joint efforts to increase cooperation and trade exchange projects between the two countries.
The two sides stressed the economic, historical, fraternal and cultural relations between the UAE and Indonesia, reflecting their willingness to work together to strengthen their ties and build the best relations for the development process in both countries. The RAK Chamber received also an official invitation from the delegation to participate in Expo Indonesia Trade, In the city of Tangierang in the period October 24-28.