NEXT 'A CALL FROM SPACE' EVENT WITH SULTAN ALNEYADI SET TO BE HELD IN RAS AL KHAIMAH June 13,2023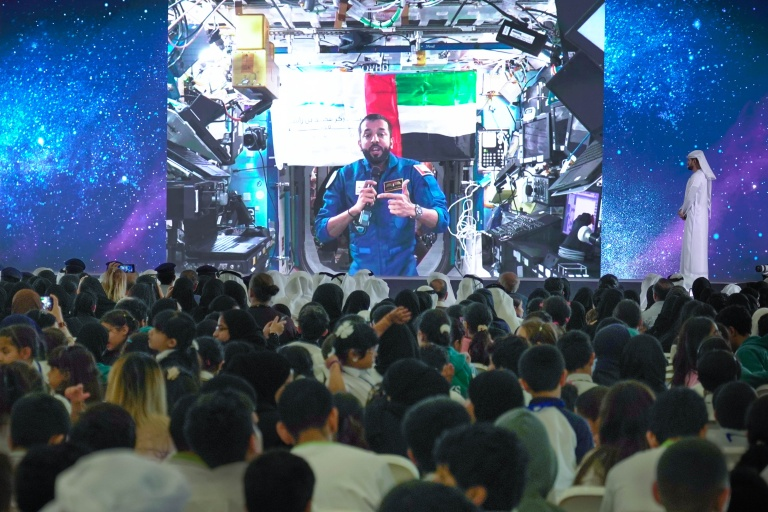 The event will provide attendees from schools, universities and government entities in Ras Al Khaimah with a chance to interact with the Emirati astronaut

Event to be held at Higher Colleges of Technologies – Ras Al Khaimah Women's Campus tomorrow at 2 PM
The Mohammed Bin Rashid Space Centre (MBRSC), in partnership with the General Secretariat of Ras Al Khaimah's Executive Council, will hold the next edition of 'A Call from Space', an exclusive event featuring Emirati astronaut Sultan AlNeyadi, in Ras Al Khaimah tomorrow at 2 PM. The sixth installment in the series will take place at Higher Colleges of Technologies – Ras Al Khaimah Women's Campus.
The event will provide invitation-only attendees from schools, universities and government entities in Ras Al Khaimah the opportunity to interact live with AlNeyadi, who is currently on the International Space Station (ISS) undertaking the longest Arab space mission in history. They will also have the chance to learn about AlNeyadi's experiences and ask him questions about life in space.
Close to 5,500 people have taken part in the past five editions of the event, giving attendees a glimpse in to AlNeyadi's life on the ISS and the opportunity to interact with him. The first event in the series was held at the Dubai Opera, followed by the second for media at the Museum of the Future. The third edition was held in Mauritius, while the fourth session was held at the United Arab Emirates University in Al Ain. The last session that took place on June 7 was a special medical science edition held at MBRU in Dubai.
AlNeyadi has been on the ISS for more than three months now, marking a significant milestone in Arab space exploration. Over the course of his mission, he has gone on to conduct several scientific experiments, performed maintenance work and even aided in the relocation of the Dragon spacecraft.
During his current mission, AlNeyadi also became the first Arab astronaut to perform a spacewalk. The spacewalk, which was performed alongside astronaut Stephen Bowen, spanned 7 hours and 1 minute and involved skilfully executing a number of preparatory tasks, which included routing power cables and laying the groundwork for the upcoming installation of the ISS Roll-Out Solar Array (iROSA).
The UAE Astronaut Programme is one of the projects managed by MBRSC under the UAE's National Space Programme and funded by the ICT Fund of the Telecommunications and Digital Government Regulatory Authority (TDRA), which aims to support research and development in the ICT sector in the UAE and promote the country's integration on the global stage.