Mohammed bin Saud chairs Executive Council meeting February 08,2020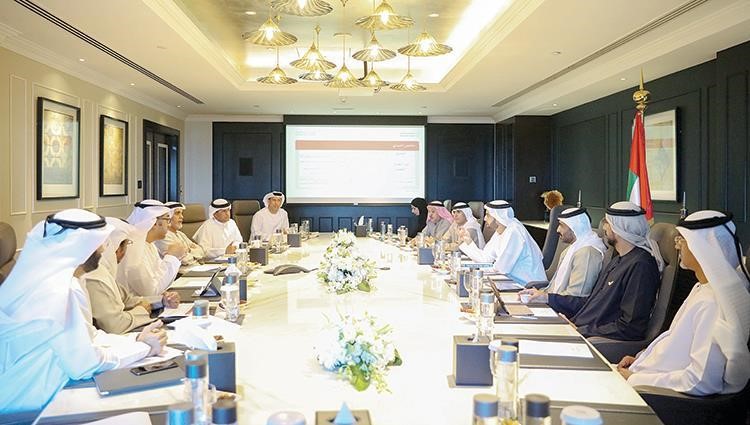 H.H. Sheikh Mohammed bin Saud bin Saqr Al Qasimi, Crown Prince of Ras Al Khaimah and Chairman of Ras Al Khaimah Executive Council, chaired today the regular meeting of the Ras Al Khaimah Executive Council, where he reviewed the agenda items related to local-federal partnership, committees' reports, efforts to empower the legislative system, environmental sustainability projects, and the development of government services and processes.
During the meeting, the Sheikh Zayed Housing Programme delivered a presentation on the housing needs outlook for 2040, with a focus on land availability in the future and housing needs across Ras Al Khaimah. The meeting discussed the challenges and the means to tackle them in light of future predictions and anticipated economic, social and demographic variables.
The council commended the efforts made the wise leadership to improve housing services and provide decent living elements for its citizens. The council also highlighted the federal partnership and the efforts made by the local government to support future housing plans and develop the necessary strategies to translate these plans into tangible results on all aspects.
RAK Crown Prince stressed the need to establish a clear vision and an overarching framework, while empowering the government to deal with the housing dossier, from identifying available parcels, to project funding, infrastructure and construction. The council discussed plans to set up a joint task force from Ras Al Khaimah Municipality and the Sheikh Zayed Housing Programme, while providing logistic support to facilitate communications and enhance collaboration between the two parties towards achieving the objectives.
The meeting also discussed the Economic Committee's report on transferring commercial contract registration authorities from RAK Courts Department to RAK Department of Economic Development. The council gave directives to set up a team that will be tasked to study the feasibility and identify the best approach in terms of administrative, financial and regulatory aspects.
The council also reviewed the Electronic and Smart Transformation Committee's report on the process of the digital projects in 2019, covering areas of leadership, strategy, e-connectivity, digital services and operational processes. The council discussed the statistics provided in the report and gave directives to invest in technological systems in order to scale up processes and improve and expand services.