Mohammed bin Saud Calls for Initiatives Bolstering the Rule of Law October 04,2018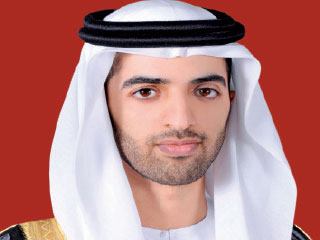 H.H. Sheikh Mohammed bin Saud bin Saqr Al Qasimi, Crown Prince of Ras al-Khaimah and President of the Judicial Council, today visited the House of Justice of Ras al-Khaimah to review its work.
Sheikh Mohammed was received by Ahmed Mohammed Al Khateri, Chairman of the Ras al-Khaimah Courts Department, and Hassan Saeed Mhimed, Attorney-General of Ras al-Khaimah, as well as members of the Judicial Authority and the Public Prosecutor's Office. He commended the efforts of judges, chief prosecutors, prosecutors and employees of the court and the prosecutor's office, to maintain justice in the UAE and Ras al-Khaimah while wishing them luck and success in performing their work, improving their services, and guaranteeing that the authority fulfills its role.
The RAK Crown Prince instructed Mhimed to implement technological initiatives and projects at the prosecutor's office, to strengthen the rule of law and facilitate its litigation procedures, as required by Federal Law No. 5 for 2017 on the use of telecommunications technology in criminal procedures, as well as Local Law No. 9 for 2017 on regulating electronic writings and signatures in Ras al-Khaimah.
He also instructed Mhimed to sign an agreement with the Ministry of Interior, to achieve maximum benefits from relevant initiatives that aim to ensure the welfare of UAE citizens and residents and guarantee timely justice.
For his part, Al Khateri thanked Sheikh Mohammed for his visit and support and for monitoring the emirate's judicial work, as well as for his efforts to ensure the independence of the legal system, so legal personnel can perform their duties and establish the principles of justice.
Adviser Hasan Saeed Mehaimed the RAK Attorney General thanked H.H. The Crown Prince and President of the Judicial Council for his constant attention and care for the RAK Attorney General Department.
On another note, HH Crown Prince of Ras al-Khaimah attended yesterday the reception held by Sheikh Saqr Bin Majid Bin Nasser Al Qasimi on the occasion of the wedding of his son Sheikh Majid Bin Saqr Al Qasimi and the daughter of Sheikh Faisal Bin Majid Bin Nasser Al Qadimi.
The ceremony, held at the Grand Ballroom at Ras Al Khaimah Hotel, was also attended by Sheikh Abdul Malik bin Qaid Al Qasimi, advisor to the Ruler of RAK, Eng. Sheikh Salem Bin Sultan Bin Saqr Al Qasimi, head of the Civil Aviation Department, Sheikh Majid Bin Sultan Bin Saqr Al Qasimi, Sheikh Marwan Bin Abdul Malik Bin Qaid Al Qasimi, and a number of Sheikhs, officials, dignitaries of the tribes and the nation, and other guests.
HH the Crown Prince and the Sheikhs and guests congratulated the groom and his father and the father of the bride, praying to God to bless them with prosperity and good offspring.