Ministry of Health signs a Memorandum of Understanding with RAK DED September 09,2018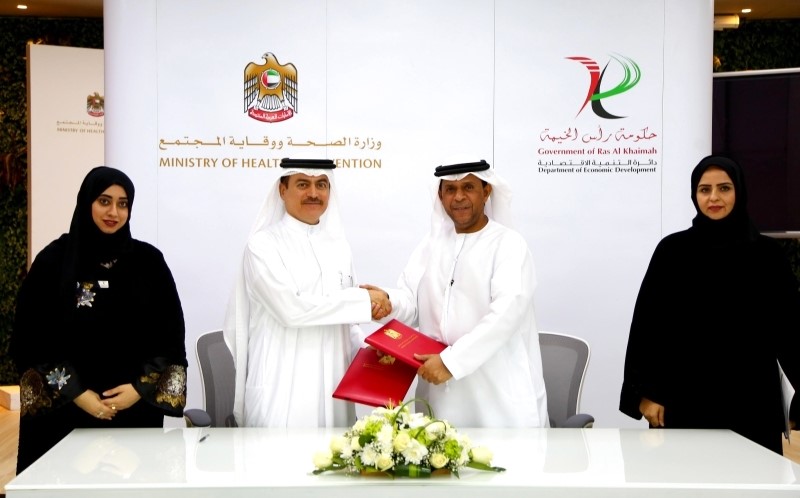 The Ministry of Health and Prevention signed a memorandum of understanding with Ras Al Khaimah Department of Economic Development (DED) aimed at strengthening corporate partnership between government institutions in the UAE and improve administrative services to the best level in line with the UAE vision 2021.
The MoU, signed by Dr. Amin Hussein Al Amiri, Assistant Undersecretary for Public Health Policy and Licensing of the Ministry of Health and Prevention and Dr. Abdulrahman Alshayeb Alnaqbi, General Director of the Department of Economic Development in Ras Al Khaimah, reflects the wise leadership's directives to promote and develop strategic partnerships among government entities and adopt clear work methodologies to meet customers' needs and aspirations and realize their happiness and satisfaction.
Al Amiri stressed on the need for a joint cooperation between the various government agencies in order to enhance the UAE vision 2021. He also pointed out to the importance of this MoU in enhancing and developing the strategic partnership between the two parties in areas of common interest. The MoU aims to fulfill the Ministry's desire of achieving integration and coordination at the highest levels to realize customer satisfaction in the health care sector.
The new MoU stipulates for cooperation, coordination and exchanging advices and knowledge between the two parties in order to improve the quality of the services provided and facilitate them to help clients obtain approvals from the two entities through a unified online system. This system will save customers time and efforts by providing services through a unified platform.