Expanded Ras Al Khaimah Fine Arts Festival (RAKFAF) officially opens, welcoming VIPs and creative talents from around the world February 04,2023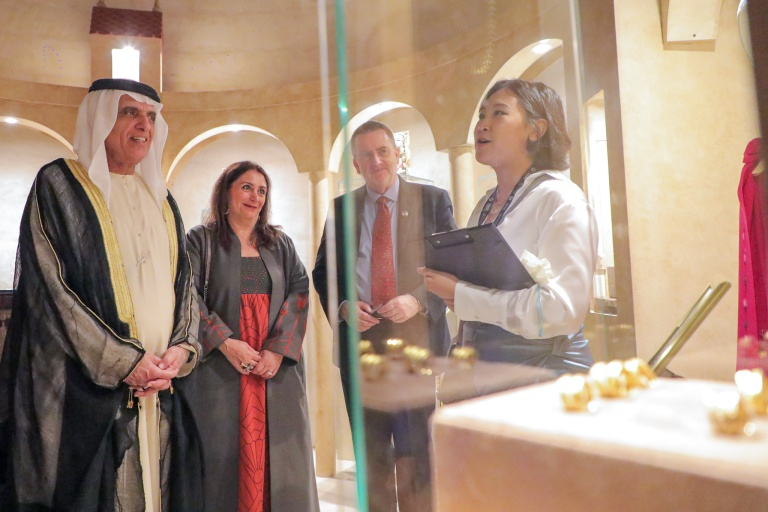 His Highness Sheikh Saud bin Saqr Al Qasimi, UAE Supreme Council Member and Ruler of Ras Al Khaimah, officially opened the annual festival at Al Jazeera Al Hamra Heritage Village in Ras Al Khaimah yesterday – February 3rd, 2023
• H.H. Sheikh Saud: 'The arts enhance opportunities for meaningful engagement and communication between communities and nations'
• H.H. Sheikh Saud: 'We are proud of our culture and heritage, and of our privileged geographic position at the confluence of civilizations'
• A highlight of the UAE's art and culture scene, the event brought together VIPs from six countries to celebrate over 120 local and international artists
• The largest outdoor arts festival in the UAE will run under the theme of Nature until the end of March, and features special exhibitions, thought-provoking films, and a specially curated gastronomical experience
Ras Al Khaimah, February 4th, 2023: The 11th edition of the Ras Al Khaimah Fine Arts Festival (RAKFAF) officially opened to the public last night, at the Al Jazeera Al Hamra Heritage Village – the historic home of the ancient Al Za'ab tribe and pearling village datingback to the 17th century.
His Highness Sheikh Saud bin Saqr Al Qasimi, UAE Supreme Council Member and Ruler of Ras Al Khaimah, opened this year's festival, showcasing the talent of more than 120 local and international artists from over 35 countries under the theme of Nature. The theme is inspired by the region's 'Arabian Almond' and celebrates the connection of the Emirate's cultural heritage with its natural beauty and its efforts to preserve the environment for a sustainable future.
Remarking on last night's opening, H.H. Sheikh Saud bin Saqr Al Qasimi said: "The arts enhance opportunities for meaningful engagement and communication between communities and nations, instilled with noble values of peace, harmony, and tolerance that drive the development of progressive communities and promote a deep sense of culture and history."
"We, in Ras Al Khaimah, are deeply proud of our culture and heritage, and of our privileged geographic position at the confluence of civilizations. We are committed to continuing our support of local artists, to celebrate their creative endeavors that reflect our rich history and culture," added H.H. Sheikh Saud.
The Ruler of Ras Al Khaimah also praised the organizers of the 11th edition of the Ras Al Khaimah Fine Arts Festival, the annual cultural event and prominent international platform forcross-cultural exchange between creatives and thought leaders from a range of sectors, whichprovides an opportunity for artists to display creative works that elevate the social, cultural and economic development of the Emirate.
Alongside H.H. Sheikh Saud, high–profile dignitaries from several countries attended the event to celebrate incredible talent from creatives around the world.
In attendance were H.E. Catherine Colonna, Minister of Europe and Foreign Affairs of the Republic of France; H.E. Lody Embrechts Ambassador of Kingdom of Netherlands; H.E.Meghan Gregonis, Consul General of the United States in Dubai and the Northern Emirates; H.E. Sean Murphy, Charge d'Affaires of the US Embassy; H.E. Sybille Pfaff, Consul General of Germany; H.E. Nathalie Kennedy, Consul General of France in Dubai and the Northern Emirates; H.E. Byung–Jun Moon, Consul General of the Republic of Korea in Dubai and the Northern Emirates; H.E. Raziff Aljunied, Consul General of Singapore in Dubai and the Northern Emirates; H.E. Sione Sonata, Minister-Counsellor at Embassy of the Kingdom of Tonga.
This year's RAKFAF will engage the community through diverse cultural and creative experiences. From art to heritage talks, pet-oriented events, each weekend in February will feature thematic programs, including art workshops, musical performances, film screenings and much more. The exhibition will remain open until the end of March. The organizers expect over 35,000 visitors from the UAE and around the world to visit RAKFAF in the next two months. All events and exhibitions are free to attend.
H.E. Raki Phillips, CEO of Ras Al Khaimah Tourism Development Authority (RAKTDA),stated: "As one of our beloved historical sites in the Emirate, I am thrilled to see Al Jazeera Al Hamra transformed during the Ras Al Khaimah Fine Arts Festival. What makes this festival so unique is the depth of talent, art and creativity that transforms this site and our destination into one that is based on diversity, inclusion and optimism."
Natasha Ridge, founding Executive Director of the Sheikh Saud bin Saqr Al Qasimi Foundation for Policy Research, said: "Here at the foundation, we are passionate about driving forward creative and collaborative approaches that elevate the social, cultural, and economic development of Ras Al Khaimah and the United Arab Emirates. The 2023 RAKFAF reinforces the presence of Ras Al Khaimah at the heart of the UAE's art and cultural scene. Beyond art, the Festival is also an inspiring and engaging community event with various exciting activities for one and all. This year, we are delighted to host a talented pool of artists, sculptors, photographers, filmmakers and poets from across the globe who interpret 'Nature' through their own unique perspectives. This provides us with greater opportunities to learn about, and from, each other in order to foster stronger cultural connections between all those who attend and participate."
The 11th edition of RAKFAF is presented by Ras Al Khaimah Tourism Development Authority (RAKTDA), supported by partners including Stevin Rock LLC, RAK Ports, RAK Economic Zone, Waldorf Astoria Ras Al Khaimah, VOX Cinemas, RAK Transportation Authority, RAK Hospitality Holding, Accenture Song and MonViso.