Drone Show to Celebrate New Year in RAK September 15,2019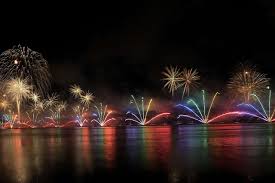 The emirate of Ras Al Khaimah gears up to mark the New Year 2020 with two dazzling firework shows, attempting to enter the Guinness World Records.
Planned to surpass all the record-breaking firework galas hosted by Ras Al Khaimah in the past years, #RAKNYE2020 promises to be a mind-boggling feat, where pyrotechnics, fireworks and laser displays will create a dazzling experience.
The New Year's Eve celebration, for the first time, will feature pyro-drones that will create never-before-seen fireworks starting with the countdown to the beginning of the New Year. The celebrations will also include a special Japanese aerial shell fireworks display. The two new experiences this year attempt to clinch two Guinness World Records.
#RAKNYE2020 will be even more special this year with a range of celebrities - including top performers from the Arab world. Families will be delighted with an added array of activities for young ones at three new locations dedicated to the public and families along the coast opposite Al Marjan Island.