170 Students Participate in "Think Science" Fair in Ras Al Khaimah March 08,2019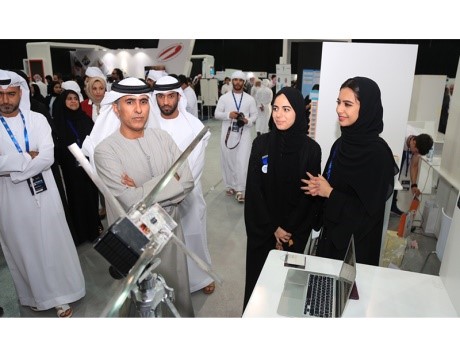 Sheikh Abdul Malik bin Qaid Al Qasimi, Advisor to the Ruler of Ras Al Khaimah, and Eng. Sheikh Salem bin Sultan Al Qasimi, Chairman of the Ras Al Khaimah Civil Aviation Department, attended the launch of "Think Science" fair at RAK Exhibition Center, (hosting partner), organized by the Emirates Foundation, in cooperation of the Ministry of Education (strategic partner). 170 students from various schools and universities in RAK participated in the competition.
Sheikh Abdul Malik bin Qaid praised the efforts of the students in science and technology, urging them to continue their efforts to achieve the goals of UAE's National Innovation Strategy.
The exhibition featured several scientific projects that competed in 11 categories.
"Think Science" included innovative activities by Honeywell and Siemens in robotics and VR; in addition to special scientific activities, by Higher Colleges of Technology.
Maytha Al Habsi, Chief Executive Officer of Emirates Foundation, extended her gratitude to His Highness Sheikh Saud bin Saqr Al Qasimi, Member of the Supreme Council, Ruler of Ras Al Khaimah, for his continuous support.