Working Hours

Office Hours
07:30 AM - 02:30 PM

Public Service Hours
07:30 AM - 02:30 PM
Ramadan Working Hours

Ramadan Office Hours
07:30 AM - 02:30 PM
Ministry of Public Works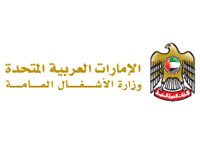 About Department
The Ministry of Public Works office in the Northern area is an organisational unit subsidiary of the public works sector in the Ministry. It works under the direct supervision and in close cooperation with the Executive Department on overseeing, implementing, maintaining and monitoring the ministry's projects within its geographical scope, spanning from Umm Al Quwain to the Ras Al Darah checkpoint at the northern borders, including areas such as Al Salamah, Al Raefah, Al Jazeeral Al Hamra, Al Rams, Shaam, Al Jeer in Ras Al Khaimah and Umm Al Quwain, in addition to some villages that belong to Al Fujairah such as Habhab.
Main Services
✓ Housing Services
✓ Urban Planning Services
✓ Implementation of the Ministry's Projects
✓ Maintenance Services for Ministerial Housing and Projects
✓ Housing Projects Schemes Service Request for Government Entities
Vision
Leadership and excellence in constructing the federal infrastructure and new cities for outstanding Emirates.
Mission
Effective contribution to achieve balanced sustainable development and providing high quality of life for the people of UAE through outstanding corporate performance in organizing, planning, construction and maintenance of infrastructure and federal housing projects in the cities and towns according to the highest international standards. This is achieved by the help of qualified Emirati competences and optimal investment of the technical and financial resources through partnership with related entities.