Contact Details
+97172288899, Emergencies 997

+97172272129

11368

rak997@emirates.net.ae
www.rak997.gov.ae/intro
Working Hours

Office Hours
07:30 AM - 02:30 PM

Public Service Hours
07:30 AM - 02:30 PM
Ramadan Working Hours

Ramadan Office Hours
07:30 AM - 02:30 PM
The General Command of the Civil Defence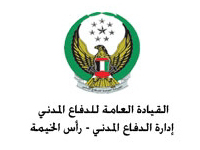 About Department
We aim to provide the best services to our clients and partners by implementing the vision and mission of the Ministry of the Interior and its institutional values ​​and achieving its objectives through realizing the strategy of the State 2021 according to future directions and competencies represented in:
Enhance safety and civil protection in the Emirate of Rak in line with the strategy of the Ministry of the Interior.

Promote safety culture and prevent accidents and disasters among community members through awareness programs.

Ensuring readiness and preparedness through conservation and coordination with partners to achieve rapid response in receiving reports.

Enhancing the satisfaction of the clients with the services provided to stop the highest standards of quality and excellence.

Promoting a culture of innovation and excellence in the institutional work environment.
Vision
To have the United Arab Emirates as one of the best countries in the world in achieving safety and security.
Mission
To work effectively and efficiently towards enhancing the quality of life in the UAE community, through smart delivery of safety and security services within an innovation-driven environment to protect lives, honors and properties.