Working Hours
Office Hours
07:30 AM - 02:30 PM

Public Service Hours
07:30 AM - 02:30 PM
Ramadan Working Hours
Ramadan Office Hours
07:30 AM - 02:30 PM
General Authority of Islamic Affairs and Endowments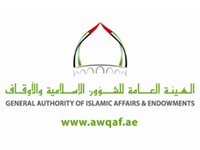 About Department

● Offer religious guidance in the UAE to instill the principle of moderation in Islam.
● Spread Islamic culture and enhance religious awareness.
● Manage and supervise mosques.
● Provide Ifta'(Islamic ruling).
● Organize Hajj and Umrah affairs.
● Hold conferences, seminars, festivities, and religious contests.
● Print and give out copies of the Holy Quran.
● Supervise Quran memorization and religious centers.
● Review religious publications and DVDS.
● Train imams and preachers.
● Grant work permits to imams and preachers.
● Grant work permits to religious centers and Hajj and Umrah groups.
● Supervise and invest awqaf (religious endowments) assigned to GAIAE.
● Promote the tradition of waqf for the cause of Allah and the benefit of society.
Vision
The GAIAE is a UAE leading entity promoting social awareness and progress according to the tolerant teachings of Islam that recognise the current realities and understand the future challenges.
Mission
The GAIAE works on enhancing religious awareness by building and maintaining mosques and memorisation centres, managing Haj and Umra affairs and investing in Waqf (endowment) for the good of society.