Contact Details
+97172333517, 600599999

+97172337955

1900

custservice@emiratespost.ae
www.epg.gov.ae/_ar/index.xhtml
Working Hours
Office Hours
07:30 AM - 03:00 PM

Public Service Hours
07:30 AM - 03:00 PM
Ramadan Working Hours
Ramadan Office Hours
07:30 AM - 02:30 PM
Emirates Post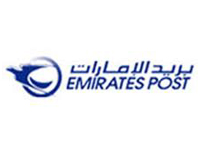 About Department
The Emirates Post Group constantly seeks to provide postal services and solutions that match the latest trends in the global postal industry, with a focus on making post offices one-stop shops that offer multiple services through a network over 115 post offices.
Services
✓ Courier services for individuals and companies
✓ Local and international courier services
✓ Local and international parcel services
✓ Money transfer services
✓ Instant Cash service
✓ The International Financial System (IFS) Service
Vision
Leadership and innovation in the fields of postal, logistics, and financial services, locally and globally.
Mission
Based on advanced infrastructure, and aided by qualified workforce and supportive leaders, we will provide postal, logistic and specialised financial services of the highest standards of quality and excellence to achieve ultimate customer satisfaction.