Working Hours

Office Hours
07:30 AM - 02:30 PM

Public Service Hours
07:30 AM - 02:30 PM
Ramadan Working Hours

Ramadan Office Hours
07:30 AM - 02:30 PM
Electronic Government Authority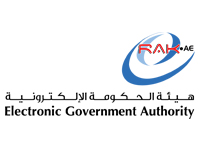 About Department
The RAK E-Government Authority (EGA) is responsible for e-transformation in the emirate of Ras Al Khaimah.
EGA provides Government to Citizen (G2C), Government to Government (G2G) and Government to Business (G2B) e-services and mobile services to individuals, government and business respectively.
EGA provides advisory services also to RAK Govt. entities in the areas of project management, technical evaluation of projects and IT infrastructure.
In addition to the above services, EGA hosts business applications, provides IT infrastructure services, IT asset purchase services and IT training services to RAK Govt. entities.
Vision
Leading in providing smart services and integrated e-government solutions to promote a better life and competitive emirate.
Mission
To implement integrated solutions using cutting - edge technologies which provide smart services to government, individuals and businesses.
Strategic Objectives
• Improving government efficiency through implementation of integrated IT Infrastructure and solutions.
• Excellence in providing services and promote customer experience.
• Improving relationships with partners and society.
• Developing organization support services and enhance the culture of creativity and innovation.
• Heightened protection of information and privacy.