Working Hours

Office Hours
07:30 AM - 02:30 PM

Public Service Hours
07:30 AM - 02:30 PM
Ramadan Working Hours

Ramadan Office Hours
07:30 AM - 02:30 PM
Department of Economic Development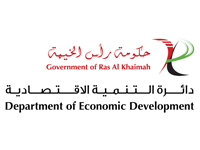 About Department
Ras Al Khaimah Department of Economic Development (DED) is a principal tributary and pillar for the emirate's economy and sustainable development; by regulating, supporting and following-up on the business sector. Consequently, the DED strived to develop itself according to an incremental vision with limitless frontiers vis-à-vis top-notch administrative practices, specifications and systems capitalizing on state-of-the-art local, regional and international reports and studies, and benefiting from technological developments and advanced know-how and scientifically utilizing the previous in order to fulfill its message and accomplish its vision and objectives.
The DED has subscribed to the principle that its customers represent one of its utmost priorities, and hence has diligently endeavored towards innovation and achieving added value for them via comprehending their requirements and expectations. Therefore, the DED strived to modernize its legislations, review its charges, simplify its procedures, adopted the comprehensive employee system in terms of its service provision, established branches in strategic locations in the Emirate, and opened offices for its partners at its main headquarters to facilitate completion of its customers' transactions.
DED has succeeded in improving its operational performance in the areas of electronic, technological and know-how transformation via implementing high-tech quality systems. DED obtained ISO 9001 quality management and ISO 20000 IT service management certifications, and its efforts were crowned by winning the first places in the Sheikh Saqr Government Excellence Program Awards in 2010, in the areas of: customer service, institutional quality, human resources, information technology, among others, and looks on to winning more accolades in 2011.
Vision
Pioneering in initiative and performance to enhance competitiveness and achieve a comprehensive and sustainable economic development
Mission
Regulate, follow up, support and promote the economic activity to provide an attractive investment environment for the business community in collaboration with our partners, on transparency and mutual respect basis, based on qualified national cadres, and highly efficient systems and techniques.